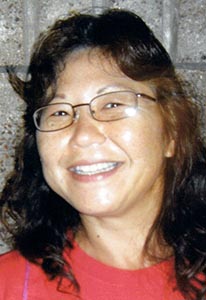 Media release | Hawaii County Police Department
Big Island police have identified human remains found on March 28th 2011 as that of a missing Hilo woman.
Acting on a tip, detectives from the Area I Criminal Investigations Section located the badly decomposed remains in an isolated field in the Hamakua District. The site is part of a former sugar cane field.
Due to the remains advanced state of decomposition, x-rays and dental comparisons were used to positively identify the remains as that of 46 year-old Myra H. Hatayama of Hilo. Hatayama was the subject of a missing person case and she was reportedly last seen by a companion between late Friday evening and early Saturday morning (March 4 and 5, 2011).
An autopsy was performed this morning, however, police are not releasing the preliminary findings at this time, opting instead to wait for results of additional forensic analyses. This case is currently classified as a coroner's inquest but foul play has not been ruled out.
Police ask that anyone who may have information or may have information about Hatayama's activities prior to her disappearance, to call Detective Reed Mahuna of the Area I Criminal Investigation Section at 961-2384.
Tipsters who prefer to remain anonymous may call Crime Stoppers at 961-8300 in Hilo or 329-8181 in Kona and may be eligible for a reward of up to $1,000. Crime Stoppers is a volunteer program run by ordinary citizens who want to keep their community safe. Crime Stoppers doesn't record calls or subscribe to caller ID. All Crime Stoppers information is kept confidential.