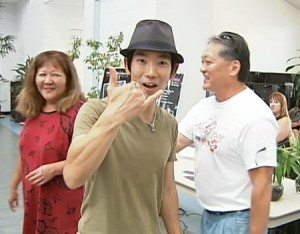 Video by David Corrigan | Voice of Stephanie Salazar
Hundreds came out to contribute to the "Hilo 2 Japan Relief" event at Honpa Hongwanji Hilo Betsuin Sangha Hall on Saturday.
Food, music, door prizes and craft booths were some of the attractions, but the main draw was the fact that all proceeds were going to benefit the American Red Cross in Japan, to assist victims of the 9.0 earthquake and tsunami that devastated the country.
Coordinators Melissa Taylor and Roberta Ching say the plans for the fundraiser grew rapidly over the last 10 days, with the community ready and willing to give what they could for the country they have such a close connection to.
Just ask special surprise entertainer, ukulele virtuoso Jake Shimabukuro, who flew straight to the Big Island from Las Vegas to participate in the event.
"I go to Japan every year", said Shimabukuro. "Watching the videos and keeping up with the news has been just heartbreaking." 
Musical guests included Lloyd Longakit and Friends, and Mark Yamanaka, Juana Torres and friends, (all seen this video) as well as Taishoji Taiko and Hui Okinawa, Rupert Tripp Jr., Damon Williams, Keaiwa, and Ka'u.
A silent auction was also held. One of the items: an autographed Jake Shimabukuro ukulele. The event raised thousands for Japanese relief.