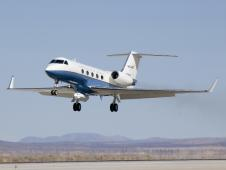 Video courtesy NASA | Voice of Tim Bryan
NASA has begun a nine day mission to study Kilauea volcano with special radar instrumentation.
A NASA Gulfstream-III aircraft will use its synthetic aperture radar developed by NASA's Jet Propulsion Laboratory in Pasadena, California to study the geological processes occurring under Earth's surface.
The device uses a technique called interferometric synthetic aperture radar that sends pulses of microwave energy from the aircraft to the ground to measure very subtle deformations in Earth's surface, like those caused by earthquakes and volcanoes.
The NASA Gulfstream-III will repeat the same flight path taken in 2010, and will study the changes in the Kilauea area following the spectacular Kamoamoa fissure eruption in early March.
By comparing these camera-like images, interferograms are formed that reveal changes in Earth's surface.
NASA hopes to be able to deploy the radar plane on short notice to better understand and aid in responding to hazards from Kilauea.