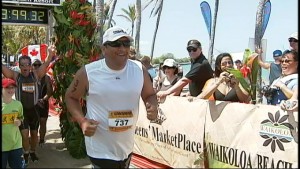 Video by David Corrigan | Voice of Karin Stanton
The 14th Annual Lavaman Triathlon saw a familiar, local face in Hawaii County cross the finish line.
Mayor Billy Kenoi took on the roughly 1 mile swim, a 24.8 mile bike ride and 6.2 mile run on Sunday, and was the 821st person to cross the finish line in 3 hours and 39 minutes, although a malfunctioning time clock read something different.
After he crossed the finish line, the winded mayor still had plenty of breathe left in his lungs for a lively interview with reporter and editor of Hawaii247.com, Karin Stanton.
COMPLETE VIDEO of post race interview: