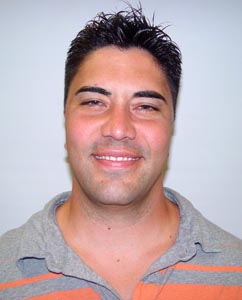 Media release | Hawaii County Police Department
The Kona Crime Prevention Committee recognized Officer Jeremy Lewis as "Officer of the Month" for April in a luncheon ceremony on Wednesday (April 6) at Huggo's restaurant in Kailua-Kona.
Lewis was honored for his investigation of an unauthorized entry into a motor vehicle case. The case ended with the arrest and successful prosecution of suspects involved in multiple car break-ins targeting tourists. Since then, the Kailua Village area has experienced a downturn in such crimes.
Detective Bradley Freitas, who nominated the officer for the honor, said a large part of the credit for the decrease in car break-ins goes to Lewis. "Through his actions and efforts, Officer Lewis has continued the preservation of the quality of life here in Hawai'i that we are accustomed to, while being guided by the department's core values, Mission and Vision Statements," Freitas wrote in nomination papers. "
As "Officer of the Month," Lewis is eligible to become "Officer of the Year."
The Kona Crime Prevention Committee is an organization that encourages community involvement in aiding and supporting police in West Hawai'i.