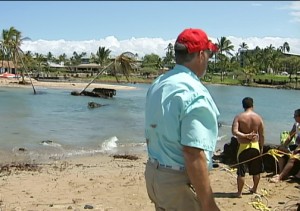 Video by David Corrigan | Voice of Stephanie Salazar
The 14th Annual Lavaman Waikoloa Triathlon was held without a hitch this past Sunday, despite the damage to Anaehoomalu Bay done by the March 11 tsunami. The beach was closed in the weeks before the big race, but it was open to competitors and onlookers by race day.
This beach was once an uninterrupted stretch of white sand, bordered by scenic fishponds, but now it has been carved in half by the sea.
This channel new divides opposite ends of the Big Island of Hawaii resort area beach.
The damage was not enough to move the Lavaman, however. A slight change in the course led runners around the fishponds, and competitors simply crossed the finish line in the opposite direction.