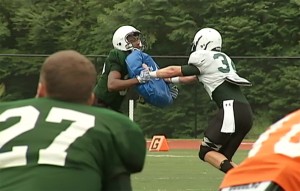 Video by David Corrigan
It was a rare treat for Warriors football fans on the Big Island of Hawaii on Saturday, when the UH team held a practice and scrimmage at Kamehameha Schools in Keaau.
A large audience filled the stands to watch the pre-season preps. The team has been making an effort to travel to the so called "neighbor islands" like Maui in 2009 and Kauai in 2010.
Warriors coach Greg McMackin said it was a great chance to make the trip to the windward side of Hawaii Island to show the loyal fans what the team is all about, in person.
McMackin also said it was another chance to further evaluate his team for the upcoming season. The coach said he has the tough job of cutting 30 players.
Hawaii County Mayor Billy Kenoi was onhand to wish the team well.