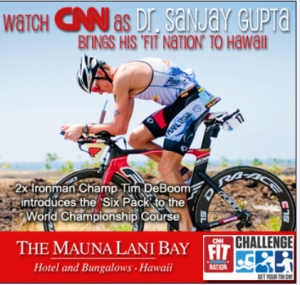 Media release | The Mauna Lani Bay Hotel & Bungalows
CNN'S DR SANJAY GUPTA COMES TO THE BIG ISLAND THIS WEEK
The Mauna Lani Bay Hotel & Bungalows, the eco-conscious independently-operated resort on the Kohala Coast of Hawaii, this week is pleased to be hosting CNN's Chief Medical Correspondent, Dr Sanjay Gupta, as he brings his show Fit Nation to Hawaii for a triathlon training camp.
Dr Gupta, recognized as "one of the 10 most influential celebrities" by Forbes Magazine (2011), balances a career as a neurosurgeon, host of CNN's weekend health program Sanjay Gupta M.D. and traveling the globe reporting on medical breakthroughs and issues. Despite his busy schedule, Gupta manages to find time to train and compete in triathlons.
CNN's Fit Nation aims to show that anyone can conquer a triathlon, no matter what their lifestyle or schedule. The show follows the journey of six Americans from all corners of the country, known as the "Six Pack", as they transform from novices to triathletes with their ultimate goal competing in the New York City Triathlon in August.
The Hawaii training camp will be the mid-way point of the Six Pack's training schedule, with the start line on race day being the next time the team meets.
The Big Island was selected as the venue to host the camp as it's the home of the Hawaii Ironman World Championships – recognized as the hardest one day endurance race on the planet. The Mauna Lani Bay Hotel & Bungalows is a globally renowned triathlete-friendly resort with its leading-edge training facilities and premier location for ocean swimming, running trails and access to the Ironman course for cycling.
The Mauna Lani partners with a number of U.S. and international pro triathletes including two time Hawaii Ironman champion, Tim DeBoom from Colorado. DeBoom has flown in to assist with the Fit Nation training camp and to provide Dr Gupta and his team with expert tips and advice.
The Fit Nation Hawaii training camp will feature as part of Sanjay Gupta M.D. this Saturday April 23 and Sunday, April 24 at 1:30 a.m. HI time. The show will be available as a podcast for download from Monday, April 25 at http://www.cnn.com/CNN/Programs/sanjay.gupta.md/
The Mauna Lani Bay Hotel & Bungalows is recognized as one of the "World's Top Earth Friendly Getaways" and the hotel's solar energy innovations have earned it the distinction of generating the most solar electric power of any luxury resort in the world.
For more information about Team Mauna Lani, upcoming training camps and Mauna Lani's year-round Iron-Fit program contact 800-367-2323 or visit www.maunalani.com.