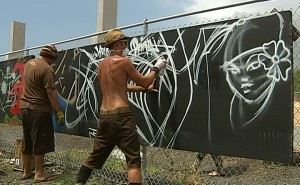 Video by David Corrigan | Voice of Stephanie Salazar
They say its a misunderstood form of contemporary art – thats why organizers of Reverse Graffiti Kona at the Old Kona Airport this weekend invited the community down to see the free spray can art exhibition promoting anti-vandalism and creative expression.
On Friday, professional artists Krush TWS and Prime held a workshop for students of all ages to learn the basics, history, techniques, styles, ethics, and health hazards of spray can art. Those attending the workshop were able to compete in Saturday's Spray Can Art Competition.
The whole idea was a part of Kealakehe High School student Shannon Wong's senior project.
Chipping in to help was the Hawaii Meth Project, reminding everyone of the non-profit's "Not Even Once" core message against trying "ice".