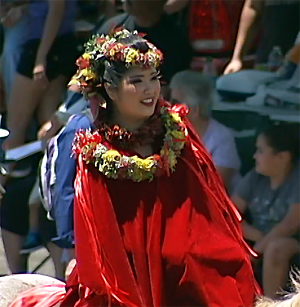 Video by David Corrigan | Voice of Stephanie Salazar
Before the final day of competition, the traditional Merrie Monarch parade was held under bright blue skies in Downtown Hilo.
Big Island Video News had a birds' eye view of the event from the balcony of Central Pacific Bank on Kilauea Avenue, where the festival house band played loudly for all to hear.
The Hawaii County band led off the procession of the reported 91 units. A familiar face on local TV was the grand marshall – Living in Paradise hosts Derek Kurisu is executive vice president of KTA Super Stores, and in the car, George Yoshida was already filming for the next episode.
They were followed by the Royal Order of Kamehameha, and the Royal Court for the Merrie Monarch Festival – Aaron Kaleo of Hilo and Kaleo Francisco of Pahoa.
The parade also included the new Miss Aloha Hula, Tori Hulali Canha, who was top wahine hula dancer in the festival in Thursday night's competition.
Mayor Billy Kenoi- a long time fan of the prestigious hula festival – and his wife Takako were close behind.
And no one can forget the pa'u riders… leading the way as the festival's Pa'u Queen – Pamela Namuo-Frendo Punihaole – and of course, she was followed by the other princesses representing the islands of Hawaii… each bedecked in lavish, traditional wardrobes – as were their horses – strutting their stuff for the crowd.
There were also some floats for the local halaus – Halau Hula ʻO Kahikilaulani and Halau Na Pua O Uluhaimalama, both in the evening's competition – were featured in the parade.
Local high school marching bands – like Waiakea, Keaau and Hilo – participated, as did many of the usual veterans groups, gymnastic troops, and pageant winners – including the newly crowned Miss Ka`u Coffee Queen Brandy Shibuya, and the new Miss Ka`u Peaberry Rebecca Lynn Kailiawa-Escobar and Miss Ka`u Coffee Dayse Meleani Andrade.
The Youth Challenge Academy also marched in the parade, drawing applause from onlookers. Puna councilman Fred Blas joined the Pahoa High School basketball team on a float… and the dance of Tahiti was well represented, but youngsters of all ages.