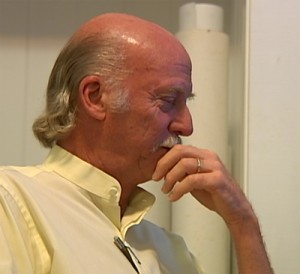 Video by David Corrigan | Voice of Stephanie Salazar
On Thursday evening, the Honokaa Peoples Theater was packed with fans of the Honokaa High School Jazz Band, under the direction of Gary Washburn, who witnessed a chicken skin moment for the group of talented young musicians.
That's right… Honokaa's own has won a Grammy; a 2011 Grammy Signature Schools Enterprise Award, one of only 36 schools to be awarded nationwide.
Presenting the award, and a check for $5,500, was the Grammy Foundation, along with some notable figures in the recording industry.
Washburn has led the Honokaa High School Jazz Band to acclaim around the State of Hawaii and beyond. Many of the musicians in the band have had successful careers in the music industry after graduating.
Before the presentation was made, Washburn met with the local legends of radio and the recording industry – like Skylark Rossetti, Cyril Pahinui, and Charles Brotman – in the theater Green Room, where they talked story.
Before taking the stage that night, Washburn – as he customarily does – lead the students in a pule outside the building, before going in to electrify the crowd.