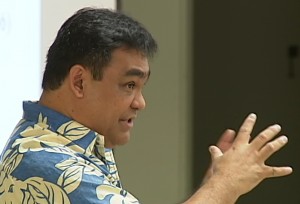 Video by David Corrigan | Voice of Stephanie Salazar
Hawaii County Council Chair Dominic Yagong met with the residents of his district in Honokaa on Thursday night.
The topic was the contentious county budget, and the planned amendments that Yagong is considering introducing.
Yagong has been a vocal critic of Mayor Billy Kenoi's proposed budget ever since it was first submitted to the council in March. He has proposed a 10% cut to the budgets of all county departments in order to avoid the deferral of millions of dollars in payments until the following fiscal year.
Other options on the table that Yagong is vetting through the community are
1.) the reduction of the 2% open space land fund to the charter mandated 1%, saving $2 million (late Thursday night, it appeared that Councilman Donald Ikeda has already submitted that particular amendment)
2.) elimination of golf subsidies, saving $815,666
3.) raise Hele-On bus fares to $1, saving $600,000
4.) defunding the County Band, saving $285,286
5.) increasing fees at county parks and recreation facilities, saving a possible $500,000 (many have not been raised since 1988) 
Yagong has met with the community in Kona, Papaaloa, and Honokaa.
Tonight, Yagong will meet with the public in Pepeekeo.