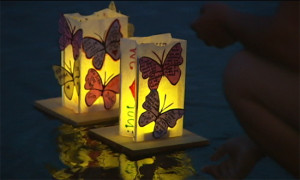 Video by David Corrigan | Voice of Stephanie Salazar
On Saturday, the memories of loved ones lost were honored in another touching "Lights of Remembrance" Luminary Launch at Wailoa State Park, part of the 7th Annual Celebration of Life.
After a 2.25 mile "Walk to Remember" around the park, friends and family of the dearly departed set customized luminaries adrift on the current of the Wailoa River. The scenic parade of lights was accompanied by the music of the Puna Men's Chorus, as per tradition.
The Celebration of Life is produced by Hospice of Hilo, a 501-c-3 not-for-profit organization, which is a family centered approach to end-of-life care.
Hospice care offers emotional and medical support to patients and families, offering care and comfort when a cure is no longer possible.
In fact, construction is underway on the first neighbor island in-patient hospice facility. The 12-bed, Medicare-certified, 14,140-square-foot facility will serve terminally ill patients who are unable to be cared for at home.
The effort recently got a $35,000 boost from HELCO and American Savings Bank.
Proceeds from the 2011 Celebration of Life will benefit the patients and families served by Hospice of Hilo.
For more info, visit Hospice of Hilo on the web at www.hospiceofhilo.org/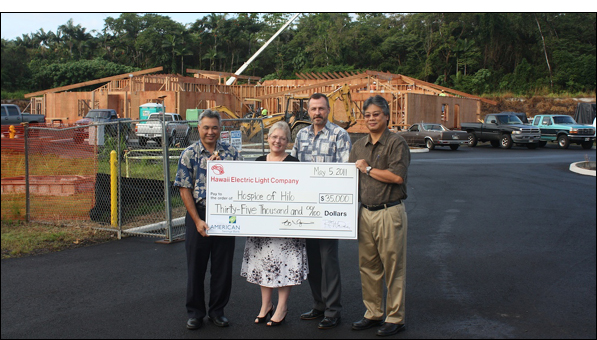 ABOVE: Hawaii Electric Light Company (HELCO) and American Savings Bank (ASB) donate $35,000 to Hospice of Hilo.