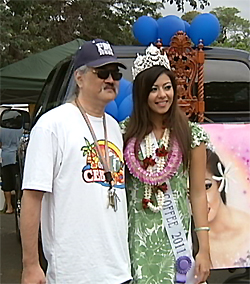 Video By David Corrigan | Voice of Stephanie Salazar
The 2011 Ka'u Coffee Festival was held this weekend in Pahala, where Hawaii's new, critically acclaimed coffee growing region is riding international recognition towards hopeful agricultural and economic revitalization.
Numerous local farmers have done well in some big cupping contests – like the Kailiawa Ohana, who placed in the top ten coffees at this year's international Specialty Coffee Association of America competition – and with every victory, the Ka'u coffee name grows in recognition and respect.
Another point of pride for Ka'u coffee – Hawai'iʻs Pete Licata – who on May 3rd combined Ka'ū and Kona coffees to be the first from the Aloha State to win the U.S. Barista Championship.
"Its essentially a coffee bartender," said Licata. "I come out and I stay at Lorie Obra's house (Rusty's Hawaiian Coffee). we go up to the farm, pick coffee cherries, bring it back down to her house, do the processing… cupping the coffee, roasting the coffee, so we can taste it and make sure that its good and make sure that we got the product that we want."
The annual festival is a chance to celebrate those accomplishments, as well as the fortitude of a small town that has refocused after the fall of the sugar industry on a new goal to grow good coffee and share it with the world.
The event drew a healthy crowd, seduced by the tastes of Ka'u's crop, food, and top notch Hawaiian entertainment like Keoki Kahumoku, Brittney Paiva, Halau Hula O Leionalani, and Cyril Pahinui – who shared the stage with local talents like Big D – Demtrius Oliveira, and the next generations of Ka'u musicians.
Attendees also had the chance to get a photo taken with the new Miss Ka'u Coffee Brandy Shibuya.
There were also coffee farm tours, and the Ka`u Coffee Festival recipe contest, which had an eager team of judges subjecting the entries to a thorough taste test en route to determining the winners.
It has taken a lot of skill and knowledge to build the Ka'u brand to this level of prestige. The ascension of the region on the world stage is thanks in part to the efforts of coffee-quality consultant and co-owner of Isla Coffee Company, Miguel Meza.
"I try and work with the farmers to try to kind of standardize the processing," said Meza, "look at things that I know relate to quality in the processing; in terms of better harvesting, in terms of fermentation, drying, storage of coffee."
"Coffee quality is really a function of how you handle it," Meza says. "There certainly are regional differences as a result of soil types, as a result of weather patterns, that do make a difference. But Kona, Ka'u, Columbia… all of those different regions can have great coffee if they are properly handled, and they can also have terrible coffee if they are improperly handled. There are far more things you can do to make coffee bad than you can do to make coffee good."
If growing coffee in Ka'u looks like its all fun and games, its not. If coffee farming wasn't already hard enough, a new pest with a bad reputation around the world has made its way into Pahala, meaning great challenges lie ahead for the region's farmers. We will have more on the invasion of the Coffee Berry Borer beetle here in Pahala in tomorrow's newscast.
More on the Ka'u Coffee Festival on the web, at www.kaucoffeefest.com
The winner of the recipe contest was Crystal McIntosh for her strawberry mocha trifle, and you can find out the secret to her success by reading her recipe, here on Hawaii247.com.