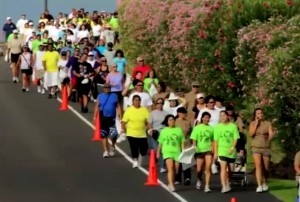 Video by Baron Sekiya, Hawaii247.com | Voice of Stephanie Salazar
On Saturday, the 33rd Annual Big Island Visitor Industry Charity Walk raised over $161,000 for various charities and non-profit organizations on the Big Island.
Over 900 walkers and 120 runner participated in the event.
On the way, beneficiaries lent a helping hand. For Baba Ignacio, the president of Na Aikane Basketball, and his team of young athletes… it was their way of saying "mahalo."
"Getting out and giving back, as well as receiving" said Ignacio of the girls, who were handing out water and ice pops at the team's aide station. "When they receive they should also get out and give back to the community, so its an upbringing thing where they understand that when their time comes, they'll be helping out as well."
Music from local talents provided the soundtrack for the three mile walk through the scenic Gold Coast resorts, passed a number of family fun booths and help stations.
The Shops at Mauna Lani was the finish line, where food booths, music and awards were presented.
Dishing up the food was Mauna Lani Bay Hotel & Bungalows, Fairmont Orchid, Waikoloa Marriott, Mauna Kea Resort, Four Seasons Hualalai, Hilton Waikoloa, Hualalai Resort, Hilton Grand Vacations and Tommy Bahama's. Entertainment was provided by Kekani along with complimentary 4D Movies at the Great 4-D Movie Ride.
The Charity Walk is a statewide event that occurs simultaneously on Oahu, Maui, the Big Island and Kauai.