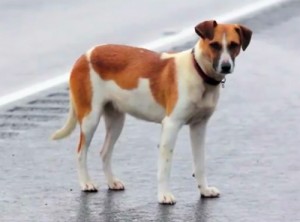 Video by Baron Sekiya, Hawaii247.com | Voice of Stephanie Salazar
An unusual sight along the cross-island Saddle Road, and a concern for both motorists and dog lovers alike.
Hawaii 24/7's Baron Sekiya has been keeping tabs on a mysterious pooch that seems to be living along the remote highway.
This video was taken on Saturday between the 20 and 21 mile markers, and shows the lone dog wandering alongside the road, endangering itself and drivers.
Sekiya reports seeing the dog a few weeks ago. The animal appears friendly, but is skittish and backs off when approached.
Someone has even left a container of water and a pile of dog food on the Mauna Kea side of the road for it.
The Hawaii Island Humane Society says they know about the dog and they have been trying to trap her for weeks, without success.
The dog has been reported twice on the Lost and Found page at the HIHS also in some hunting forums.
To follow the latest in Baron's investigation, visit the story page at  Hawaii247.com.