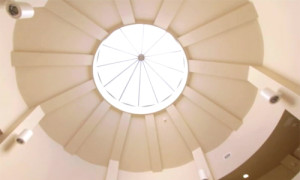 Video courtesy Baron Sekiya, Hawaii247.com | Voice of Stephanie Salazar
On Wednesday – the same day that Hawaii County officials were working to whittle down the deferred payments in the $367 million dollar county budget – a special solar occurance took place in Hilo.
Shortly after noon, at 12:16 p.m., everyone's shadow disappeared under the "Lahaina Noon" – the one minute when the sun is exactly overhead. It only happens twice a year in the same place in the tropics.
Hawaii is the only U.S. state to experience such moments, which typically occur in May and July.
Hawaii 24/7's Baron Sekiya spent the moment at the Imiloa Astronomy Center, where Lahaina Noon has an visually pleasing, if unintended, effect.  Vinnie Recinto, in charge of marketing at the Hilo science attraction, explains in this video.
To see more times and dates for upcoming Lahaina Noons, visit the news story at Hawaii247.com.