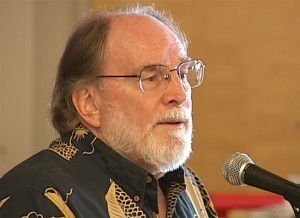 Video by David Corrigan
Governor Neil Abercrombie spoke at the 2011 Hawaii County Democratic Party Convention in Kona on Saturday.
Abercrombie delivered the keynote address entitled "A New Day In Hawaii: Democratic Party Values and 'Restoring Confidence in Government". Right from the start, Abercrombie talked about his recent "remarks to the assembled faithful" on Oahu, which made headlines on the heels of a legislative session that newspapers categorized as an obstruction of the governor's initiatives.
"There's a disconnect," Abercrombie admitted to the room filled with fellow Democrats, on the grounds of Hualalai Academy. "On the Big Island, here, there are more elected officials here I think than there were at the entire Oahu convention," he stated, to loud applause.
Abercrombie called for the revitalization of the Democratic party, re-channeling frustrations that the Democrat controlled legislature "left all kinds of things on the table" for which he blamed "internal disagreements, inside baseball and dugout politics."
"We don't deserve to hold office if we cant deliver as Democrats."
"Thats why I'm reaching out to you today," said the governor. "I'm earnestly soliciting your support."
Big Island Video News will be posting more from the governor's keynote speech in the coming hours, including topics of particular interest to the Big Island.