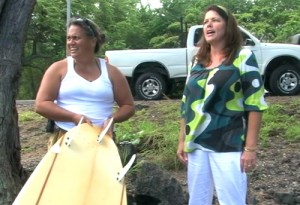 Video Video courtesy Lynn Beittel, Matt Binder of Visionary Video
Holualoa Bay, Hawaii – Two residents of Kona on the Big Island of Hawaii got together at Lyman's surf spot to talk story about the things they have in common on Thursday.
Alayna DeBina and Theresa Fernandez both enjoy the water. They both surf. And they both were attacked by a shark this week.
Luckily, neither woman was hurt. Alayna's grandson Monoa, who was out with her in Holualoa Bay on Sunday when the shark struck their paddleboard, was also unharmed.
Meeting each other to do this video interview, the two wahine had plenty to talk about.
In the video, DeBina and Fernandez both recount their stories of survival, after a suspected tiger shark knocked into them and bit into their boards. Fernandez brought her surf board along for show and tell on Thursday. Both ladies initially thought they hit sea turtles, which are common in Hawaiian waters.
There are many questions still unanswered. Is there more than one hungry shark in the waters of Holualoa Bay? Why are the sharks attacking? Is there a correlation between the population of sea turtles and the aggressive sharks? And will it happen again?