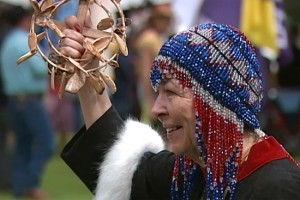 Video by David Corrigan
HILO, Hawaii – The 6th annual Hilo Inter-Tribal Powwow is underway at Wailoa State Park.
The Memorial Day Weekend tradition drew hundreds of participants and onlookers for the opening ceremonies and grand entry on Saturday. The morning rain cleared away just in time for the pounding rhythms of host drum "Wild Horse" to begin the festivities.
This year, the powwow was joined by the Kodiak Alutiiq Dancers, seen in the grand entry wearing black customes with Arctic fox fur. Also participating, the Oneida Nation Dancers and of course, the kanaka maoli representatives: Leo Nahenahe O Pohai Ke Aloha – Kupuna Hula. Troy De Roche, who along with his wife Liz is credited with organizing the event, was scheduled to perform on Native American Flute.
Another highlight is the Hilo Inter-Tribal Powwow Craft Fair, featuring quality items created by Native practitioners. Food booths offer the famous Indian tacos and frybread.
You do not have to be a member of a Native nation in order to join in the dance circle, but there are rules of etiquette you should follow.
From the Hilo Powwow website: (http://www.hilopowwow.com/)
Everyone is welcome to attend a Powwow. It is a wonderful way to learn more about Native American culture. Above anything else, powwows are social events, a time to see old friends and meet new ones. Don't be afraid to ask questions and engage in conversation with vendors, dancers, singers and other powwow participants.

For those of you attending your first powwow, here are some rules and guidelines to make it more enjoyable:

◊ Remember you are a guest at the Powwow and should conduct yourself as such. Be respectful of the traditions and customs. If you are a dancer, honor the protocol of the host group.

◊ Show respect for elders, dancers, and drummers. Give them priority in line at restrooms, food line, etc.

◊ Chairs placed around the dance arena are reserved for dancers, elders and their families. Please feel free to bring your own chairs, towels, blankets, or mats to sit on. Everyone wants to see, so be careful not to block the view of those behind you!

◊ Respect Mother Earth. Put your trash in the proper containers – trash cans and recycle bins. Learn more about recycling on Hawai`i Island here: Recycle Hawai`i.

◊ Powwow committees are not responsible for accidents, theft, or short-funded travelers.
The Powwow continues on Monday, and at 1 p.m. the nation's veteran's will be honored for Memorial day.