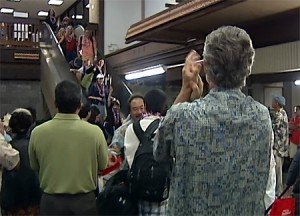 Video by David Corrigan | Voice of Stephanie Salazar
At 7:40 on Thursday night, a United Airlines Flight from Los Angeles, operated by Continental, landed at Hilo International Airport, kicking off a highly anticipated era in East Hawaii tourism.
A curtain of water was launched over the 737-800 aircraft by the Hawaii County Fire Department, and as the passengers originating from LAX deplaned they were greeted with a celebration. This was the first direct flight from LAX to Hilo since 1983, and the airport was filled with smiles, laughter and aloha.
Mayor Billy Kenoi, grinning from ear to ear, personally welcomed the new visitors to the Big Island.
"This is a dream come true," said the Luzinski family from Los Angeles. "The weather is the best, and the people here are the best in the world."
Lance Lau, the pilot of the inaugural flight, is a Hilo native. He said the flight is a point of pride in his long career.
Amidst the sea of happiness and entertainment in the airport lobby, perhaps no one was more pleased than George Applegate, the executive director of the Big Island Visitors Bureau. "These flights don't materialize like a pot of gold at the end of the rainbow," Applegate later said in a media release. "There is a lot of strategic planning, convincing and commitment that does into it. I want to acknowledge the thoughtful and determined effort that Mayor Kenoi and his team put into making these flights a reality. And now it looks like we might have our pot of gold, near the end of Rainbow Falls you might say."
But the most heartfelt moment of the evening was this joyous hug shared between Colorado family – 6 months in the making. When military wife Chanda Reyes and her young daughter Maya greeted Navy Lt. Carlos Reyes at the bottom of the escalator, dry eyes were hard to find.
"The Navy gave me this chance to meet my family anywhere for a reunion, and we chose Hilo. We're from Colorado, and Hilo seems like a beautiful halfway spot between home and Afghanistan. This new flight made it easy to happen," Lt. Reyes said told media. The family was headed to accommodations in Kapoho along the Puna coast.
The LAX flight is is just one of two new California routes making direct Hilo trips. On Saturday, the first direct from san Fransisco flight lands in Hilo. The new flights are expected to bring over 40,000 visitors to Hawaii Island, where they are expected to pump an estimated$ 50 million into the island economy.