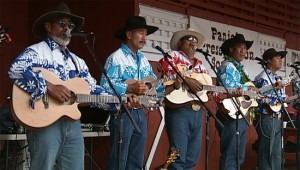 Video by David Corrigan | Voice of Stephanie Salazar
The century old Pukalani Stables at Parker Ranch is now the long-dreamed "Paniolo Heritage Center"
The Waimea community celebrated the resurrection and dedication of the stables as a museum on Saturday. The Paniolo Preservation Society hopes the center will nurture and perpetuate the state's ranching traditions.
The dedication featured light paniolo pupu, and Hawaiian cowboy kanikapila by Kimo Ho'opai and Friends
The Paniolo Preservation Society worked hard to restore the stables as a heritage center after Parker Ranch handed over the keys.
The restoration was the society's fundraising objective of the 2008 Waiomina Centennial Celebration. The celebration commemorated the 100th anniversary of Hawaii's most famous paniolo, Ikua Purdy, winning the world championship of roping in 1908 in Wyoming.
Purdy was just one of the many faces on display in the heritage center. The Paniolo Hall of Fame had many more. Also on display: Hawaiian saddles, historical documents and tools of panilo trade.
The dedication also included the Paniolo Preservation Society's silent auction. Among the prizes, a chance to go on an "Old Laumai'a Ranching Site" archaeological dig… as well as a chance "Drive Your Own Miss Daisy"
Dr. Brady Bergin of Waimea's Aina Hou Animal Hospital is providing an opportunity for someone to own a yearling donkey – jack or jenny!
The event was part of a larger paniolo weekend for cowboys in Waimea.
Professional Bull Riders organization held a free public clinic on what has been called "America's original extreme sport", teaching local cowboys techniques on riding these South Point Buckers.
Established in 1998, the Paniolo Preservation Society works to increase public awareness of the historical, present-day and future significance of Hawaii's ranching industry, with emphasis on the roles and traditions of the paniolo.