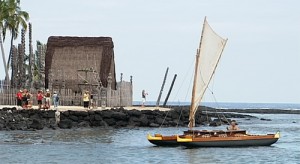 Video by David Corrigan | Voice of Stephanie Salazar
It was a scene from hundreds of years ago, held at a special place in South Kona that has changed little over that time.
A venerable procession began the ho'okupu ceremony, opening up the cultural festival at Puuhonua O Honaunau National Historical Park this weekend.
The festival marks the park's 50th anniversary as a unit of the National Park Service.
Gifts were laid at the alter of Hale o Keawe, the former resting area of 26 Keawe line chiefs. Then hula, followed by three days of cultural demonstration and activity. The event culminated with the popular hukilau fishing exhibition.
For some practitioners, the annual cultural festival is a chance to keep Hawaiian family traditions alive.
The 50th anniversary celebration does not end at the conclusion of the cultural festival. It continues all year, with special events every month or so.