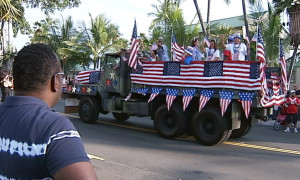 Video by David Corrigan | Voice of Stephanie Salazar
In Kona, thousands lined Alii Drive to see the 16th annual Independence Day Parade make its way through Kailua Village.
69 entries comprised this year's march, the theme of which was "Celebrate Freedom".
The crew from LAVA 105.3 called the action at one of the route's many sound stations.
Local businesses, performing artists, and other Kona based organizations strutted their stuff and waved to the massive crowd, while heading south through the village.
Five grand marshalls led the way… all of whom have served in the military with distinction and also served Hawaii County on either the Police or Fire Departments.
The grand marshalls were Police Officers Kupono Mata and Thomas Koyanagi, Fire fighter Paul Kekela and recruit Dominic Marzi, and volunteer firefighter Clinton Haina.
The West Hawaii Band followed the grand marshalls down Alii Drive.
The parade included leaders and dignitaries like Governor Neil Abercrombie, and county councilmembers Angel Pilago, Dominic Yagong and Brenda Ford.
After the parade, the crowd was treated to a fireworks show.