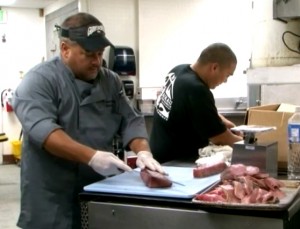 Video provided by the Eddie Aikau Restaurant and Surf Museum | Voice of Stephanie Salazar
There was an extra special holiday event this weekend at the Kings Shops in Waikoloa.
The Eddie Aikau Restaurant & Surf Museum opened its doors to a huge crowd on Sunday evening.
The new attraction is named after the legendary big wave surfer and Hawaiian lifeguard. He was lost at sea in 1978, paddling out to find help as a crew member aboard the capsized Hokule'a voyaging canoe.
Present for Sunday's opening festivities were pro surfers Shane Dorian, China Uemura, Dave Wassel, Clyde Aikau and NBA's David Robinson, as well as other members of the Aikau family and representatives of the Eddie Aikau Foundation.
The event included live Hawaiian music, an "ugly surfboard contest," and a blessing by Kahu Billy Mitchell, who presides at the Quiksilver in Memory of Eddie Aikau surf meet on 'Oahu.
"Eddie's" restaurant is a locally-owned and operated collaboration between Brandon Lee, Ryan Lee, Alexander Ferguson and Keoni Regidor – Honoka'a Brothers LLC and Hawaiian Cahuilla, Inc., which is owned by Waimea residents Linda Gillette and Solomon Aikau.
Executive Chef Scott Lutey is creating a new "Contemporary Hawaiian Cuisine" for the restaurant spotlighting fresh, sustainable Hawaii food products.
"Eddie's" is open for lunch and dinner daily