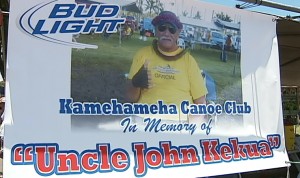 Video by David Corrigan | Voice of Stephanie Salazar
There was a special addition to the Moku O Hawaii Outrigger Canoe Racing Association season this year.
The schedule usually has eight regattas, but a ninth event was hosted by the Kamehameha Canoe Club at Hilo Bay in order to honor the memory of John Kekua Jr.
Coach and kumu of Kamehameha Canoe Club, Uncle John Kekua passed last year at the age of 62. Friends say he started paddling in Hilo Bay in 1962 at 14 years of age. He later started the Kekua Foundation, in order to connect young people to the richness of the culture of the koa canoe.
Kai Opua again finished atop the A division with 223 points, leading Keauhou, Keaukaha, Kawaihae, Puna, Kamehameha, and Kai 'Ehitu
The 52 points earned by the Paddlers of Laka put the team over Tui Tonga in the B Division.
Final results:
A division

Kai Opua Canoe Club 223

Keauhou Canoe Club 189

Keaukaha Canoe Club 144

Kawaihae Canoe Club 136

Puna Canoe Club 136

Kamehameha C.C. 96

Kai 'Ehitu 72

B division

Paddlers of Laka 52

Tui Tonga 47

Hui Wa'a O Waiakea 35

Waikoloa Canoe Club 27

Keoua Canoe Club 25

Na Wa'a Hanakahi 14

Kona Athletic Club 14

Kailana Canoe Club 9