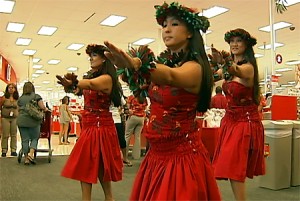 Video by David Corrigan
A hundred or so lucky consumers got to check out the new Target store in Hilo on Tuesday, the first to open its doors on the east side of Hawaii Island. Once inside, folks were greeted by savory pupus, hula, and top notch local Hawaiian music… as well as the sort of sales and selection Target is known for.
The Hilo Target store now employs nearly 350 team members and features an expanded fresh food layout. The store touts the latest merchandise reinventions across departments such as beauty, shoes, home, and electronics. The store also has sustainable features supporting Target's commitment to smart development, representatives say.
Along with a new Safeway store, Target is located on 15.5 acres – across from Home Depot and makai of Walmart – leased from the state Department of Hawaiian Home Lands. Reports estimate the lease will generate $77.6 million for the DHHL.
DHHL Chairman and Hilo native Alapaki Nahale-a was in attendance, as was Hawaii County Mayor Billy Kenoi. Both expressed gratitude to the Target corporation for the economic benefits the business will bring to the island.
The Hilo Target is the forth in the state of Hawaii, and it is not the first on the Big Island. Kona got its own Target in 2009.
July 19, 2011 – Target opens in Hilo
This is the original video that was published with this story on July 19, 2011.