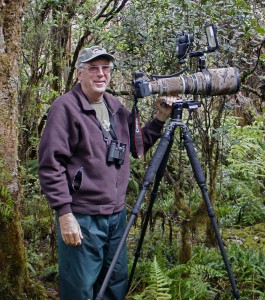 HAWAII VOLCANOES NATIONAL PARK, Hawaii: Julie Mitchell, the General Manager of the Friends of Hawai'i Volcanoes National Park, passes along this press release about a special event for nature photography lovers of any skill level:
Photograph the Splendor of Nature with Jack Jeffrey

Join award-winning photographer and wildlife biologist Jack Jeffrey (right photo) for inspirational sessions of photographing the splendor of Hawai'i's natural environment. On Saturday and Sunday, August 6 and 7, Jeffrey leads "In The Field: Nature Photography" in Hawai'i Volcanoes National Park. The public is invited to sign up for either day or both. Sessions run 8:00 a.m. to 4:00 p.m. each day.

Learn to photograph plants, flowers, insects, birds (only if visible), scenics, and other native natural history subjects the way the professionals photograph them. Various aspects of nature photography will be discussed, including equipment, exposure, composition, lighting, close-ups, and photo ethics.

On Saturday, the seminar begins at Nahuku (Thurston Lava Tube) to catch the morning light, and possibly native birds feeding on mamane and 'ohi'a blossoms.

"We'll try our hand at photographing inside a lava tube. We'll take a short hike along the Escape Road with opportunities to photograph many different native plants and, if we are lucky, even a happy face spider or two," states Jeffrey. "After lunch, we'll drive back to the Kilauea Visitor Center and hike along the 'Iliahi Trail (Sandalwood Trail) and photograph the scenic Kilauea Crater and other native flora and fauna along the way."

On Sunday, the group explores Mauna Ulu to photograph interesting lava formations in the area.

"Rainbow-hued lava drips, lava trees, and weird lava flows will be our target for photography in the morning light. Later we'll drive to Kipukapuaulu (Bird Park) for lunch, then hike the one mile loop trail where we'll photograph rare and endangered plants, and possibly even Kamehameha butterflies," Jeffrey says.

This class will be limited to 12 participants each day, so interested parties should sign up early. Due to unpredictable and variable weather conditions, changes in photo sites are possible.

"Saturday is designed for those with point-and-shoot cameras, and those with limited field experience using their cameras," notes Jeffrey. "Sunday is for those who are more advanced since it will be a tip, tricks, and techniques seminar for those who have completed Saturday or who have some experience with their cameras in the field."

Jack Jeffrey is a recipient of the prestigious National Sierra Club 2002 Ansel Adams' Award for Conservation Photography. His photos have been featured in Audubon, Smithsonian, and Life magazines, among others, as well as in books, text books, and calendars.

This event is presented by the Hawai'i Volcanoes Institute, a program of the Friends of Hawai'i Volcanoes National Park, a non-profit organization. For either Saturday or Sunday (one day), program cost is $55 for Friends members and $75 for non-members. For both Saturday and Sunday (two days), program cost is $95 for Friends members and $135 for non-members. Students (K-12 and college with valid student ID) are half-price. Non-members are welcome to join the Friends in order to get the member discount.

To register, call 985-7373 or visit www.fhvnp.org.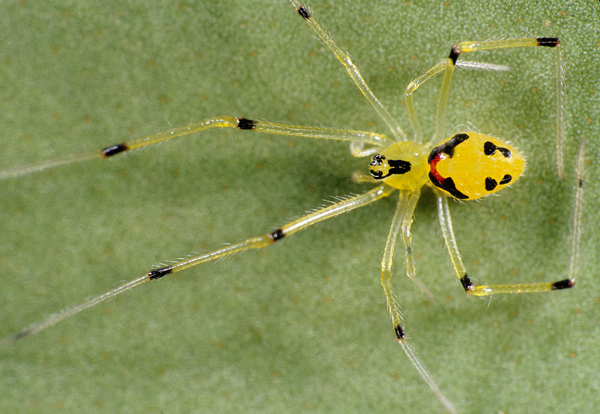 ABOVE: Happy Face Spider 1 by Jack Jeffrey. Happyface spiders are just one of Hawai'i's unique creatures that attendees can hope to capture during "In The Field: Nature Photography" with award-winning photographer and wildlife biologist Jack Jeffrey.