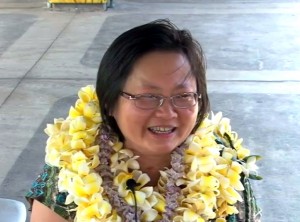 Video by Lynn Beittel, Visionary Video | Voice of Stephanie Salazar
Dr. Theresa Wang made her return to Kona on Saturday, 8 months after a devastating car crash on Queen Kaahumanu Highway nearly ended her life.
The accident made national headlines because the vehicle that struck Wang's car was driven by former University of Hawaii quarterback Colt Brennan's girlfriend, Shakti Stream. Brennan was also in the car.
Wang – who today seems to be in high spirits – remembers very little of the accident. Dr. Wang suffered for another 7 months, fighting to regain her life at two rehabilitation hospitals in Colorado and California. As the national headlines focused on the condition of the one time NFL player, Wang's husband – David Chen – raised his voice on behalf of his struggling wife.
Chen kept a continuous blog (http://hulaterri.blogspot.com) , sharing his wife's painful recovery with the world. The process was therapeutic.
And when Wang – a physician at West Hawaii Community Health Center at the time of the accident – arrived back to Hawaii, she was welcomed by friends and family, having inspired people all over the world with her rehabilitation.
Her condition has also cast a new light on her profession, opening Dr. Wang's eyes to the realitites of brain trauma. 
Because of the effects of her own brain injury, Dr. Wang may no longer be a part of the health profession.
Although the incident has forever altered her life, Wang and her husband seem to have forgiveness in their heart.