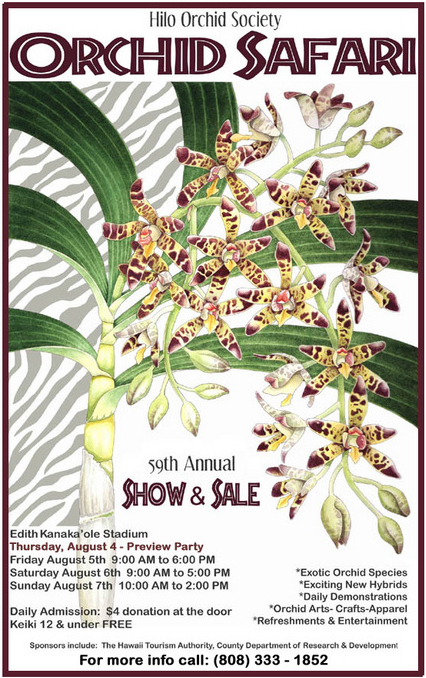 HILO, Hawaii: The Hilo Orchid Society's 59th Annual Show and Sale – billed as the largest display of its kind in the state of Hawaii – is kicking off Thursday and runs through the weekend at the Edith Kanaka`ole Stadium.
Sheryl Rawson, the volunteer PR Coordinator with Hilo Orchid Society, sends this information about the big event:
The 59th Annual Hilo Orchid Society Show and Sale: ORCHID SAFARI takes place August 5th (9am-6pm), 6th (9am-5pm) and 7th (10am-2pm). Thousands of orchids in displays created by top notch growers and amateurs entice audiences in this three day spectacle at Edith Kanaka'ole Stadium. Visitors can expect to see exotic species, beautifully grown specimen plants and the latest hybrids, many created by Big Island orchid breeders. Judging of plants will be conducted by certified American Orchid Society judges with dozens of trophies and ribbons awarded. Information about orchids and their cultivation will be offered in free mini-classes conducted by experts. The show will feature a refreshment area with a silent auction, and entertainment each afternoon. Sales areas offer orchid and plant related products plus, of course, magnificent orchids for purchase, including some you won't find in your typical retail garden store or nursery. Purchases may be shipped to the mainland. A Preview Party, benefitting the Ku`ikahi Mediation Center, a non-profit that provides affordable dispute resolution services to the people of East Hawaii will be held on Thursday, August 5 including great food, fine wine tasting, beer by Kona Brewing Company and live music by Rupert Tripp and Boni Narito. Tickets for the preview party are $65 per person. . ORCHID SAFARI is sponsored by the County of Hawai'i, Hawaii Tourism Authority and others. For more information, call 333-1852 or go to www.hiloorchidsociety.org.
Just announced!! Diana Aki will be entertaining at the show on Friday, August 5 from 4 to 5 p.m., followed by Taiko Drumming. Organizers say other entertainers include Stain Kaina And His Lovely Hula Ladies. A silent auction will include great auction items like a 2 night stay at Fairmont Orchid, a mountain bike, a helicopter ride and much much more. And not to be forgotten – a vast display of orchids!