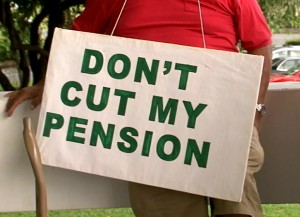 Video by Lynn Beittel and Tim Bryan | Voice of Stephanie Salazar
The governor seldom travels alone, but to say he had company during his Hilo visit would be an understatement. Around every turn, the Governor was met with a respectful group of demonstrators… The Retired Hawaii State Teachers Association, mostly – sounding off on the governor's plans to their tax retirement benefits. We caught up with the group at the university.
We also spoke to members of a larger group demonstrating at the state building. These folks said the gathering is on behalf of all the unions having a tough time with the new state executive.
YouTube: HSTA-R Big Island President, Wayne Joseph, confronts governor Neil Abercrombie on retirement issues.