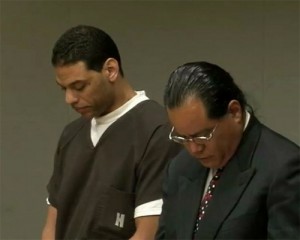 Video by Tim Bryan
HILO, Hawaii: Marwan Jackson, convicted of manslaughter in the beating death of his pregnant girlfriend Sarah Fay, was sentenced to life in prison on Friday.
Judge Greg Nakamura handed down the sentence after hearing emotional testimony by the family of Sarah, who died after the November 2005 assault in her Fern Acres home. Fay was kept alive at Queens Medical Center just long enough to deliver her baby – and Jackson's son – by c-section.
Josiah is now five years old, and he lives in Colorado with his aunt Carie and his uncle Michael – Sarah's brother. Both were in the Hilo courtroom to express the impact Jackson's actions have had on their family.
The video above shows four of the emotional vicitm impact statements. During the testimony, family members held a small box containing the ashes of Fay.
From the Sarah Marie Fay tribute website, maintained to honor her memory and establish a Sarah Fay Memorial Fund for the future benefit of her children, we have this information on the victim:
Because of the circumstances surrounding her death, memories of Sarah's life may be accompanied by sadness, anger and regret that she became a victim of domestic violence. But instead of giving more power to the suffering she endured, we want to remember her for who she was: a strong, spiritual, beautiful woman.

A native of Champaign, Illinois, Sarah graduated from Champaign Central in 1989, after participating in cross-country, flag football and the French club. She attended Illinois State University, continued on to Parkland, and transferred to the University of Illinois School of Social Work before dropping out in her junior year. Always a free spirit, Sarah followed the Grateful Dead around the country before settling in Hawaii, where she spent the last decade of her life.

She found her true passion on the Big Island, living close to nature. Sarah loved reggae dancing, playing African drums, and swimming with the dolphins at Kahena Beach. She had a strong interest in Hawaiian spirituality and culture and practiced massage therapy. She was a devoted mother, committed to a natural, peaceful way of life. Her children were born at home with midwives and raised with the love of a cheerful young woman whose passion for life was contagious.

Sarah was only 34-years-old at the time of her death. She is survived by her 10-year-old son, Adahy, her 7-year-old daughter, Wahliya, and baby Josiah Darcy Fay, delivered at 10:50 a.m. on December 12th at Queen's Medical Center.
We will have more video, including Jackson's statement before the court, later.