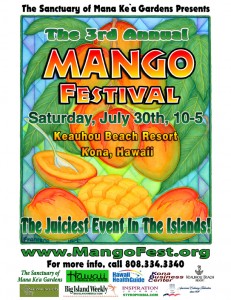 Video by Matt and Abe Binder | Voice of Lyman Medeiros
Here at the Royal Garden of the Keauhou Beach Resort, the third annual Mango Festival celebrated Hawaii's tropical fruit during the peak of the harvest season.
A chance for serious mango lovers to get together and sample all the different varieties of their beloved fruit, as well as a chance for regular folks to enjoy the mangoes they love so much.
At the heart of all the day's grafting demonstrations, farming presentations, and – why not? – belly dancing: a well known face in South Kona agriculture, Dr. Randyl Rupar.
A staunch supporter of local agriculture, we first met Randyl Rupar at an avocado festival in 2009. He was at that time as much of an enlightened – and alternative – agronomist as he is today. Rupar is the PhD. behind The Sanctuary of Mana Ke'a Gardens, the 501(c) 3 Non-profit that presented the festival.
So what kind of a year was it for mango growers? Experts say this year was a bit of a let down compared to last year.
The island has been riding a wave of mango pride for the last few years. A joyous 2010 Mango Festival celebrated the year's fantastic harvest, perhaps the best in decades according to growers like Marg Love.
And the year before, it was this huge 7 pound mango – grown in Honomu – that narrowly missed a world record. The huge fruit was happily eaten before our camera here at Shark's coffee shop in Hilo.
But its the yield uncertainty from year to year that goes to show diversifying your crops is the safest farming practice.
Despite having such an abundance of luscious fruit at our disposal, most of the island's mango comes by the boat, arriving from off the island.
Ken Love, president of the statewide Hawaii Tropical Fruit Growers, keeps a close eye on the numbers, as well as the causes. Love makes no mystery out of where he stands on the issue, encouraging folks to look at labels and buy local.
Its all fun and games for the folks who attended the 2011 Mango Festival, but it is a challenge for those putting it all together. The folks who push onward year after year hope for their eventual sweet reward; A strong step towards sustainability.