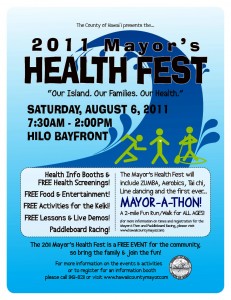 Video courtesy Hawaii County office of the Mayor
HILO, Hawaii: It was a busy day on the Hilo Bayfront, where Big Island families gathered to enjoy a day of activity, education and fresh air.
The occassion was Mayor Billy Kenoi's 2011 Health Fest, themed "Our Island, Our Families, Our Health"
County officials say the event is designed to promote the health and wellness of all the citizens of Hawaii Island.
A pre-event flyer issued by the office read:
All are welcome at the Health Fest and are encouraged to attend and participate in the various health and fitness activities. Activities offered by the County Parks and Recreation Department include zumba, zumba gold, tai chi, line dancing, aerobics and keiki activities. Other activities include paddle board racing, roller derby, and bicycle safety training.
There was also a first ever "Mayor-athon", a fun run/walk, that took off at 7:30 a.m.
In this video, provided by the county, the mayor explains more about the event.