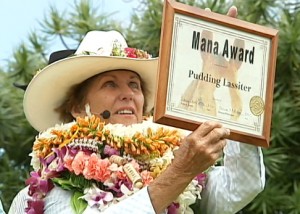 Video by David Corrigan | Voice of Stephanie Salazar
The annual Hawaii Island Horse Expo was held this past weekend in Waimea… on Sunday, our camera joined the festivities at the Anna Ranch Heritage Center, where a special event was taking place under the sprinkle of sun showers.
A Blessing of the Horses welcomed horse owners to bring a strand of their horse's mane or tail for a traditional Hawaiian blessing.
The gathering also presented the Mana Award to Pudding Lassiter, who has inspired and educated the community about horses – in line with the goals of Hawaii Horse Expo – for generations. A lei covered Lassiter, surrounded by paniolo friends and family, was moved by the recognition. The award is sponsored by Veterinary Associates Inc. in Waimea.
Dr. Robert Miller, equine veterinarian from California, was also honored.
After the opening ceremonies, it was down to some serious horse talk, like this presentation by "HorseThink" founder and trainer Scot Hansen – who spoke about his days as a horse mounted police officer on the mainland, working under unique circumstances… like crowd control at a Grateful Dead Concert.
Proceeds from the annual event benefit the Humane Society's Horse Rescue Fund, which helps abused and abandoned horses on the island.