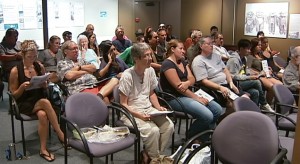 Video by David Corrigan | Voice of Stephanie Salazar
A federal plan to revise the critical habitat for the Hawaiian monk seal all around the Hawaiian Islands drew a large crowd to the Mokupapapa Discovery Center in Hilo on Monday evening.
The boundaries of the critical habitat will encircle all the main Hawaiian Islands, from 5 meters inland of the shoreline to the marine habitat out to a depth of 500 meters.
The habitat will surround the entire Big Island, with the exception of major ports like Hilo Bay and Kawaihae, and other harbors like Honokohau. The historic lava flow areas near Kalapana are also excluded.
NOAA says the critical habitat designation is not the same as a preserve, a sanctuary, a refuge, or a number of other protection zones. They say people will still be able to recreate on designated beaches and will still be able to fish in designated waters.
Still, there was plenty of apparent confusion over the perceived possibility of restrictions. Several concerned fisherman voiced their distrust during the public hearing in Hilo.
Others said sufficient notice about the hearing was not given to the community.
According to NOAA, there are only about 1,100 monk seals left, with 200 in the main Hawaiian Islands. That makes scenes like the one in the video above at Richardson's Beach Park in Keaukaha increasingly rare.
According to the Center for Biological Diversity and KAHEA, the Hawaiian-Environmental Alliance, studies have shown that endangered wildlife with habitat protections are twice as likely to be recovering as those without.