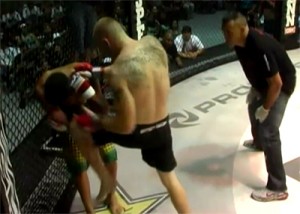 Video courtesy: Layne Luna | Voice: Peter Serafin
HILO, Hawaii: Another Just Scrap event, another packed house at the Hilo Civic.
The August 6th mixed martial arts showcase filled a card of 13 bouts, all involving rugged amatuers willing to pound eachother in the cage – not for money – but for the dreams of glory.
Toby "2 Quick" Misech, the 145 pound Just Scrap champion, faced the young Jonah Vistante of Waianae, in the non-title co-main event.
Two rounds was all that was needed for the now 14-2 Misech to prove his dominance. This incredible video shot by Layne Luna brings us right into the ring to see the action. From the opening bell, Misech's attack had Vistante off balance and often on his back, unable to counter the champion effectivley.
While the final bout of the evening did not wager a championship, the other co-main event decided who would hold the 185 pound Just Scrap title.
Honokaa's Kaleo "For the Girls" Gambill made short work of Oahu's Jesse Lindsey… a referee stoppage put an end to this beat down after 1 minute and four seconds into the first round. That makes Gambill the new champ in the 185 pound division.
Another Honokaa boy, Kaeo Meyer, did not fare so well in his match against Hilo's Chris Willems.
Willems assailed Meyer with powerful kicks and knees… to his credit, Meyer hung in there, managing to take Willems to the ground… and also managing to survive this brutal series of knees, lasting into the second round.
But shortly after round two began… it was only a matter of time before Willems' striking ability would end the fight… A devastating left leg… was all it took to knock Meyer out.
One of the more even contests of the evening pit Oahu's Ray Cooper III against Ikaika Martin… and from the start, the fight was fast and furious… the two brawled and grappled their way into the second round… where one last toe to toe attack …. ended in this throw by Cooper… and from there it was afinal barrage that spelled the end for Martin. The ref stopped the fight at 1:15 in the second round.
Cooper's "Aloha Cartel" teammates had plenty to celebrate, not the least of which was a moment with MMA's prodigy himself – BJ Penn – an inspiration not only as a local champion here in Hilo, but as a professional fighter… proof that in this world of volunteer violence, these young warriors could one day draw a paycheck for this… smash mouth work on a Saturday night, currently conducted pro bono.