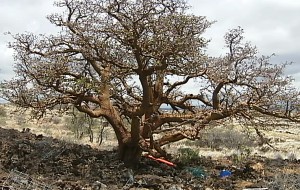 Video by David Corrigan | Voice of Stephanie Salazar
WAIKOLOA, Hawaii: Lovers of the wiliwili tree gathered on the Waikoloa Golf Course this weekend, for the 2nd annual Wiliwili Festival.
Local organizations set up booths and tables on the green lawn next to the club house for the day long event. The festival featured music, food and information on conservation initiatives.
The festival intended to raise awareness about the ongoing struggle of the wiliwili tree in Hawaii. The unique endemic species is at risk, thanks to a mix of invasive species, feral goats and drought. The tree – with its light-weight wood – has been traditionally used for canoes and surfboards.
Along with learning about the tree, attendees had a chance to sponsor a tree with a donation to the Waikoloa Dry Forest Initiative.
Big Island Video News got a chance to take a look at the massive project, which was – at the time – undertaking an "extreme" fencing stage… aiming to keep goats from chewing down the precious plants.
About 50 new wiliwili trees have been planted in the project area.