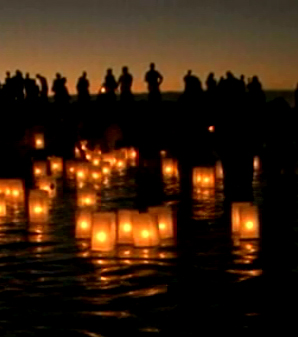 Video courtesy North Hawaii Hospice | Voice of Stephanie Salazar
KOHALA COAST, Hawaii: Lanterns lit Pauoa Bay along the Kohala Coast on Sunday evening, when North Hawaii Hospice held its first annual floating lantern ceremony at The Fairmont Orchid Hawaii.
A ceremony was held at the Coconut Grove at the luxury resort, and included live music, hula, and Taiko drummers. After the festivities, the crowd gathered by the shore to set their lanterns afloat on the tides, in memory of departed loved ones.
Organizers say lantern floating is an Asian spiritual tradition that symbolizes the wish for all beings to live in peaceful coexistence. As the lanterns are released onto the ocean they take with them our healing prayers to honor and remember those who have passed.