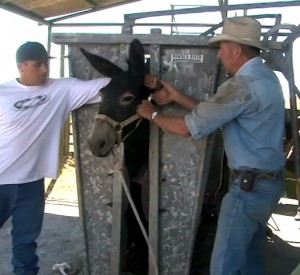 Video by Lynn Beittel, Visionary Video | Voice of Stephanie Salazar
On Monday we posted video of the massive donkey re-homing clinic held in Waikii Ranch, where nearly 200 of the famed Waikoloa Nightingales – today's feral ancestors of the animals that were brought to Kona to help on coffee plantations – were prepared for adoption.
Although Dr. Brady Bergin said the donkeys were surprisingly cooperative, it was still lots of hard work for these dedicated volunteers.
One recognizable volunteer, here on horseback… Senator Clayton Hee of Hawai's23rd district. Hee's family used to farm Kona, and he is well aware of the unique place the so called Kona Nightingales have in Hawaii history.
Over 100 donkeys are planned to fly – by plane, of course – to Peaceful Valley Donkey Rescue in southern Califonia in September.