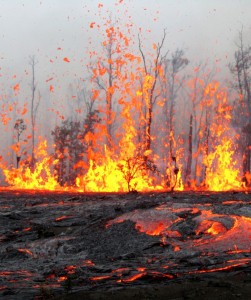 Video produced by David Corrigan and Tim Bryan, additional video courtesy USGS Hawaiian Volcano Observatory, National Park Service, and Mick Kalber
HAWAII VOLCANOES NATIONAL PARK, Hawaii: Recently, we took a look back at the Kamoamoa fissure eruption on the east rift of Hawaii's active Kilauea volcano, half a year after its short-lived show captivated the world.
On March 5th, the steady eruption at Kilauea volcano changed, after an incredible fissure tore the earth open on the middle east rift zone.
Before that moment, the public had known the eruption through its summit lava lake, an active ocean entry at Kalapana, and a restless Puu Oo crater in between.
Homes in the Kalapana Gardens subdivision were on alert, but when earthquakes on the rift zone began to rattle the area continually, it looked like a change was on the horizon.
There were several months of earthquakes, actually", said Hawaiian Volcano Observatory Scientist-in-Charge, Jim Kauahikaua (photo above right), six months after the event. "Decent sized ones like magnitude 3 or so. But really, the sign that something started was the tilt. We have all most of important data streams alarmed so we get text messages or emails or something… one of our data streams is hooked up to an automatic dialer so it will call our phones in case the internet doesn't work or something."
"We all know what our jobs are", said Kauahikaua. "Once everybody hears that an event is going on, we all look at our various data streams… the first thing that happened was that deflation tiltmeter on the north flank… and that kind of alerts you to look at the camera and see the floor's kind of dropping out."
A first hand account was published in a HVO Volcano Watch article shortly after the four day episode concluded:
HVO scientists were shaken out of their weekend routine when, at 1:42 p.m., on Saturday, March 5, 2011, the seismic tremor alarms started and, at 2:16 p.m., the floor of Pu`u `O`o crater began to collapse. A rapidly dispatched HVO overflight saw fountaining just west of Pu`u `O`o, beginning around 5:00 p.m. Then darkness fell, and the only way to observe what would happen next was to make the long hike out to the eruption site on foot. HVO's Scientist-in-Charge decided that a small group of scientists, including me, should make that journey.

At 7:00 p.m., our group began hiking east from the Mauna Ulu parking lot, with headlamps illuminating the trail. The going was slow as we cast our beams ahead to find each successive ahu (rock cairn). Orange glow from the lava fountains in the distance provided a nighttime beacon.

The nine-mile hike took us past Mauna Ulu, then Makaopuhi Crater, through Napau Crater and across the cinder fields to the east. By this point, the glow was muted, and we came upon a cooling lava flow field devoid of any fountaining. Glow in the cracks, scattered brush fires, and several new steaming fissures testified to the recent activity, but otherwise it was disappointingly quiet.

After a time, we called in our report and started hiking back home. At 12:30 a.m. we reached Napau campsite and paused for a drink. Suddenly, we heard loud gas jetting through the trees, and the night sky to our east was lit up in brilliant orange.

From the western rim of Napau Crater, we could see that activity had resumed at the eruption site. A spectacular line of fountains, reaching above tree level, played for an hour, then rapidly died. We waited at the edge of Napau, huddled under tarps in the cold, for several hours to see what would happen next.

By 4:30 a.m., fountaining at the eruption site had resumed, and, within an hour, we were again at the eruption site. A cone had already been built, and small "strombolian" explosions were occurring in the cone's crater. Strombolian activity, named after Stromboli Volcano in Italy, is characterized by small, pulsating explosions that are gas rich, with relatively sparse particles.

Observing from a safe distance, we recorded GPS position and ejecta height. The sight was eerie, with roaring lava bubbles bursting and casting incandescent particles in the darkness. Suddenly, a loud sound from the west started behind us, where we had just come from. Once again, gas jetting and bright glow alerted us to a new fissure. Now, unsettlingly, we had activity to the east and west of us.

We rapidly headed west to observe the new fountaining, as well as to ensure a safe escape route. Fortunately, the fountaining was well south of the trail. It consisted of a 100-m (330 ft) long line of fountains, with ejecta reaching 20 m (66 ft) in height.

At daybreak, the sky was lavender with sunrise and lava fountains continued to play at the western fissure in incandescent hues of red, orange and yellow. They fed a rapid lava flow that cascaded for several hours into a seemingly bottomless crack.

During the peak of activity, large clots of lava spatter were thrown 30 m (100 ft) into the air, building spatter ramparts around the base of the fountain. Gas-rushing and jetting sounds combined with the slapping and pounding of spatter as it hit the ground. Every hour we radioed the observatory with activity reports.

The eruption site was soon occupied by other busy HVO scientists conducting lava sampling and tracking gas chemistry to discern whether old or new magma fed the eruption. Others measured ground deformation to get a sense of the size of the dike feeding the eruption. Throughout the day, the vigor of the fountaining fluctuated and, more interestingly, moved back and forth across the fissure system. By afternoon, our water and energy were spent, and we headed back to HVO to file our reports.

A Webcam installed that day permitted HVO scientists to monitor the eruption site from the observatory, though fieldwork continued in subsequent days. Fountaining eventually ceased on Wednesday, March 9, and the Kamoamoa fissure eruption—amazing as it was—had ended.

PHOTO, above right: An early morning view of the fountaining we encountered at the western fissure on Sunday, March 6, at 7:20 a.m. Particles were thrown up to 15 m (50 ft) high at this point and the intensity and height increased over the next two hours.
When the first video of the March 5th Kamoamoa fissure was released, the world got a glimpse of the potential power of Kilauea, commonly known for its relatively peaceful eruption.
As geophysicist Mike Poland explained at a recent After Dark at the Park talk at the national park, this video captured by a heroic Hawaiian Volcano Observatory scientist was nearly more than was bargained for.
"So we sent out this geologist in this helicopter", Poland told the crowd at the Kilauea Visitor Center. "And he overflew Pu'u O'o and he noticed that 'yeah' that cater floor is gone. But he didn't notice anything else on his first pass.And then he was over Pu'u O'o and he and the pilot looked over their shoulders a little bit up the rift… and they saw a fissure eruption that had just started. So what did they do? Like any good geologist, he landed… and he took a video."
The crowd gasped as they watched the video of a widening fissure crack, spewing lava, crumble away towards the filming geologist, who held his shot until it was obvious that it was time to run for his life.
The first journalist to capture the images of the Kamoamoa eruption: vulcanographer Mick Kalber… who brought the world this defining footage.
If video like this is still a thrill for a volcano veteran like Kalber, imagine what Marco Ernandes thought… seen here, flying this helicopter in the foreground. It was Ernandes' first charter flight in Hawaiian volcano!
"Everybody was pretty happy for me to have that happen on my first day," Ernandes told Big Island Video News in a phone interview.
That wouldn't be Marco's last look at a major eruptive event… He took Kalber up in the helicopter once again, a few months later, to help capture the comparable Puu Oo vent breakout in August.
With the incredible fissure eruption on the east rift zone, attention was diverted from Kailuea's usual show at the summit.
But when the lava lake at Halemaumau drained away, some recalled the worst-case concerns of an explosive eruption. The disappearance was similar to the accounts of a lava lake draining in 1924 that resulted the violent summit event that killed one person and doubled the width of Halemaumau.
Or worse… the 1790 explosion that is believed to have killed over 80 Hawaiians travelling miles away.
Scientists say that thankfully, the events were different in a very important way.
A recent USGS HVO Volcano Watch article tackled the issue:
Geologists think that the explosive eruptions resulted as ground water entered the hot conduit emptied by the draining lava. The water was heated to steam but couldn't escape passively, because rock-fall debris formed a pressure seal. Steam pressure had to build before it could explode through the seal. Unknown then was how deep the ground water was.

For more information about these dramatic events, see three articles on HVO's Web site: http://hvo.wr.usgs.gov/volcanowatch/1999/99_04_01.html, http://hvo.wr.usgs.gov/volcanowatch/1999/99_05_06.html, and http://hvo.wr.usgs.gov/archive/2001_05_18.html

Now to March 5, 2011. Lava drained rapidly from the pit along the southeastern edge of Halema`uma`u. An intrusion (and eruption) took place on the middle east rift zone between Napau and Pu`u `O`o. Rock falls occurred from the walls of the emptying pit. In these ways—though faster and on a smaller scale—the events of 2011 resembled those of 1924.

Research since 1924 shows that the water table, below which rocks are saturated with water, is about 500 m (1,600 feet) under the present caldera floor. If lava were to drain below that depth, models suggest that ground water would enter the conduit and potentially trigger steam-driven explosions.

The depth from the caldera floor to the point where lava disappeared on March 9-10 was about 305 m (1,000 feet), 60 percent of the way to the water table. We don't think the lava dropped much farther, though, because sounds of gas escaping the lava could be heard from the rim of Halema`uma`u, even when lava couldn't be seen. On March 14, lava reappeared in the pit, accompanying summit inflation and ending the draining.

Aside from the lack of explosive eruptions this time, how did the 1924 and 2011 draining episodes differ? Perhaps the most important difference was that the crater's floor collapsed in 1924, whereas only liquid drained in 2011, with relatively small rock falls from the walls of the pit and no floor collapse. In fact, a nearly flat platform, once drowned by lava, reappeared in the pit during the March draining and did not drop down in the next several days. Aside from the expected rock falls from the vertical and overhanging walls, the rest of the pit maintained its integrity pretty well.

These differences probably relate to scale. In 1924, a much larger volume of magma left the summit reservoir, and wholesale collapse was the outcome. Summit deflation in 2011 and the volume of lava that drained from the pit were small, by comparison, and no collapse took place.

Ironically, the narrow feeding conduit exposed by the 2011 draining probably increased the chance of another kind of explosion—one driven by gas escaping from the lava but trapped beneath rock-fall debris. Such debris could have choked the conduit, forcing gas to pressurize before breaking through. It didn't happen this time, but something similar took place on March 19, 2008, when the first explosion since 1924 ushered in the ongoing Halema`uma`u eruption.

We are living in an uncertain time at Kilauea, but not a very explosive one. To hear about what one of those is like, come to the After Dark in the Park lecture on April 5 concerning the explosive eruption of 1790, the largest in the past 1,000 years.
Now that 6 months has passed, what do scientists have to say about the spectacular Kamoamoa fissure eruption?
If you are scientist in charge, Jim Kauahikaua… one word might be "cool"
"That one was cool…" said Jim, "I was out there in '97 when the previous one occurred in that area… and that was only a little less than 24 hours. This one went on for four days. And that was part of the coolness, because we kinda knew what had happened in '97, and we were right on it with the Kamoamoa fissure doing the mapping and sampling …. we really got a good data set."
Data that, as geophysicist Mike Poland says, helps define what appears to be a definite pattern at Puu oo.
"One of my colleagues actually described this as the east rift zone had a conduit aneurysm", said Polland. "We're still sticking magma into Kilauea, and its go to go somewhere. And right now its filling Pu'u O'o. I said this a few times, and Im not afraid to say it again… this is only gonna end one way."
Promising that the show is far from over at Kilauea Volcano.