9:56 PM – Extreme drought designated in Kohala
The current U.S. Drought Monitor shows that in Hawaii, "mounting agricultural impacts led to the introduction of Extreme Drought (D3) in the northwest of the Big Island and the introduction of Moderate Drought (D1) in western Oahu."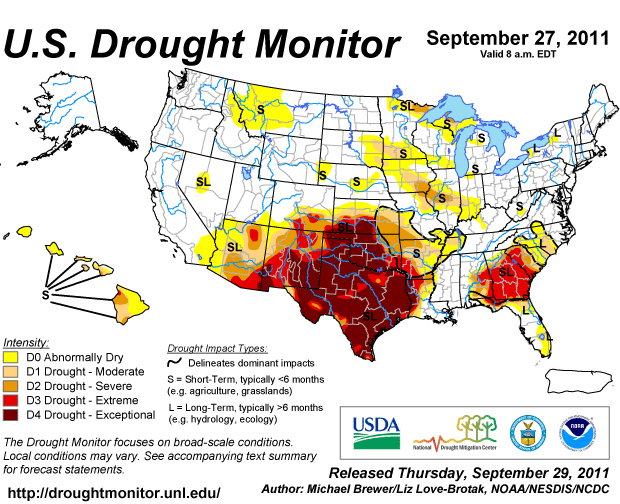 8:30 PM – Folks in Kona plan support for the Occupy Wall Street movement, Monday October 3rd.
BIVN just received the following promotion image: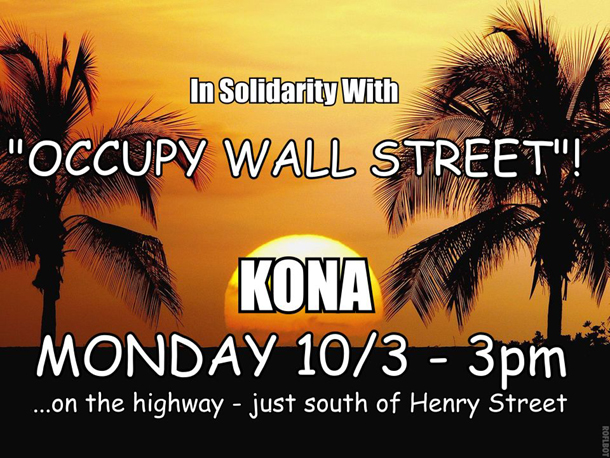 8:03 PM HST – Ian Lind on unexploded ordnance emergency proclamation:
"There are still unanswered questions concerning the governor's recent emergency proclamations that suspended various state laws for several different purposes. The one involving clearing of unexploded military munitions caught my attention because of the amount of money flowing to private contractors." (see Unanswered questions remain about governor's emergency declarations)
5:35 PM HST – Green Workforce Development Summit planned for HPA, Nov. 1
The Hawaii Department of Labor and Industrial Relations has issued this media release about a special summit coming to Hawaii Preparatory Academy:
Business leaders, educators, policy makers, and those interested in advancing green workforce development can now register for the Hawai'i County Green Workforce Development Summit to be held on Tuesday, November 1, 2011 from 8:30am to 2:45pm at the Hawai'i Preparatory Academy campus in Kamuela.

This summit is presented in partnership with the County of Hawai'i, Hawai'i Island Workforce & Economic Development Ohana, Hawai'i Preparatory Academy, and ICLEI Local Governments for Sustainability.

Mayor William Kenoi and Department of Labor and Industrial Relations (DLIR) Director Dwight Takamine will welcome participants at 8:45am, followed by a keynote address by Bill Wiecking, Director of Hawai'i Preparatory Academy's globally recognized Energy Lab. Dr. Wiecking has been an educator in Hawaii for over 30 years, and will share his vision of creating a learning facility for the study of energy and sustainability using the Big Island as a model for a sustainable planet.

Participants will hear from eighteen local experts across four panel sessions discussing issues such as the current assessment and outlook on green jobs, employer perspectives and challenges, bridging the skills gap, and an interactive town hall forum on sustaining the green economy. Event registration includes a unique tour of the zero-net-energy Hawai'i Preparatory Academy Energy Lab, the first K-12 school building in the world to have received Living Building Challenge certification (which goes beyond LEED Platinum).

"The DLIR is committed to leading a sustainable green economy through informed decision-making and a skilled and trained workforce," said DLIR Director Dwight Takamine. "We intend to engage our local community through active dialogue – not just in our involvement with this green conference, but every day."

Registration is $15 and includes a continental breakfast, lunch and tour of the energy lab. Early registration is encouraged, as seats are limited. View the agenda and register at www.HiwedoHawaii.org.

For conference details and registration questions, please contact:

Gaye Ishimaru, Executive Director
Hawaii Island Workforce and Economic Development Ohana
gishimaru@earthlink.net
(808)959-6200
5:03 PM HST – Kahuku Unit Palm Trail to Open, Oct. 8th
The Hawai'i Volcanoes National Park issued this media release about a new trail in the Kahuku Unit in Ka'u:
Hawai'i Volcanoes National Park is opening a new hiking trail in the Park's Kahuku Unit on Sat. Oct. 8, 2011 with a celebration at the trailhead at 10:00AM followed by a ranger guided hike with Ranger John Stallman. A second ranger guided hike will lead by Ranger Dean Gallagher at 11:00AM.

The Palm trail is a 2.6 mile loop traversing through scenic pasture along an ancient cinder cone with some of the best panoramic views Kahuku has to offer. Along the way are relics of the ranching era, sections of remnant native forest and amazing volcanic features from the 1868 eruptive fissures.

The Kahuku Unit is open weekends from 9:00AM – 3:00 PM except the first Saturday of each month. The entrance is on the mauka (upslope) side of Highway 11 between mile markers 70 and 71. The Palm trailhead is two miles up the unpaved main road.

Kahuku can be hot and dry or cool and rainy. Bring sunscreen, rain gear, good walking shoes for the moderate hike, water and snacks. Please leave your animals at home for this event. Pets are not allowed above the airstrip and may not be left inside vehicles. Palm trail head can be reached by 2 wheel drive vehicles; however, 4 wheel drive is recommended for the road beyond the trail head.