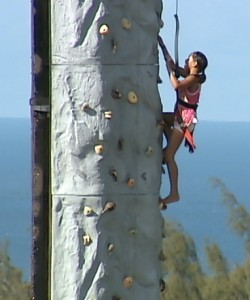 Video by David Corrigan | Voice of Stephanie Salazar
KAPAAU, Hawaii: On Saturday, one of Kohala's biggest annual community events was held.
This year, the Kohala Country Fair moved out from under the large banyan tree and onto a new 10 acre location in Kapaau.
Organizers call it the biggest country fair on the Big Island, and the event had something for everyone in the family. All-day live entertainment, cultural demonstrations, food booths, crafts, and activities for the kids, like this imposing rock climbing tower…
The lua-decorating contest also returned to the fair.
Kohala's rich history in ranching and agriculture were this year's featured themes.