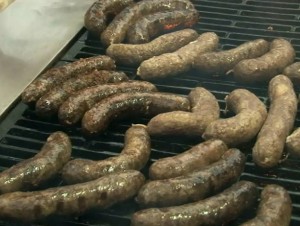 Video courtesy event organizers | Voice of Stephanie Salazar
WAIKOLOA, Hawaii: One of the premiere ag tourism events on Big Island, "Mealani: A Taste of the Hawaiian Range" was held on Friday at the Hilton Waikoloa Village.
This was the 16th annual event for Hawaii Island's grass-fed beef industry, bringing together local ranchers, farmers, restaurateurs and eager eaters to celebrate a bounty of locally produced food.
This year, we take a look at some of the Seminars of the event, like the Pork Industry Seminar… a discussion on the traditional cultural protocol and growing commercial use of feral and domestic hog in the Hawaii food service industry.
Panelists include pork producer Lloyd Case, Tom Asano of Hilo's Kulana Foods, a slaughterhouse and meat processing plant, and Hilton Waikoloa Village Executive Chef Charles Charbonneau.
Another well attended seminar: "How to Cook Grass-Fed Beef 101" … open to the public and featuring guest presenters Derek Kurisu of KTA Super Store and Chef Scott Hiraishi of Sam Choy's Kai Lanai.
Kurisu, the well known host of TV's "Living in Paradise"… and a former journeyman meat cutter… says locally produced beef is a big seller at KTA.
Then, the part of the event that everyone looks forward to the most… after the ceremonial opening, over a thousand hungry attendees flooded the Hilton Waikoloa grand ballroom to feast on the local grass-fed beef, pork, wild boar, mutton, goat and lamb.
35 top chefs showcased their skill in preparing the island dishes.
Mealani – A Taste of the Hawaiian Range provides a venue for sustainable agricultural education, encouragement and support of locally produced ag products. The event is a partnership between UH Manoa's College of Tropical Agriculture and Human Resources, Hawaii Cattlemen's Association, Hawaii Cattlemen's Council, Kulana Foods and community volunteers.