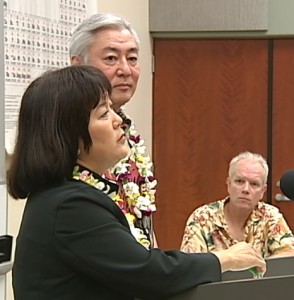 Video by David Corrigan | Voice of Stephanie Salazar
HILO, Hawaii: A gathering of journalists and bloggers from across Hawaii was held at the University of Hawaii-Hilo this weekend.
Primarily organized by the Big Island Chronicle's "journalist with a blog" Tiffany Edwards-Hunt – the event served as a training for students interested in new media. But it was also a chance for professional journalists to talk story and evaluate the state of the industry.
There was something for everyone at the symposium. After Hunt gave some short opening remarks, attendees were off to the various breakout sessions located around the campus center, like the Journalism 101 session with Loren Mitchell, who has been teaching writing at Hawaii Community College since 2005.
Or a well attended Introduction to Blogging and New Media Journalism, moderated by radio news broadcaster Sherry Bracken, featuring big names in Hawaii news blogging Ian Lind (lind.net) and Andy Parx (Got Windmills?) … and editor and general manager of the Civil Beat news website, John Temple.
Many professionals scrambled for the discussion on Libel and Defamationwith Hakalau resident Steven Strauss, an attorney well versed in business development, environmental law and intellectual property.
And for those interested in the ins and outs of Hawaii's Sunshine Law… UCB 100 was the place to be. That's where Cheryl Kakazu Park, the director of the Office of Information Practices talked about her agency's efforts in administering open government meeting laws, as well as open access to government records.
Park also touched on OIP's legislative package for the upcoming session, which will include defining of how lawmakers can use social media, like Facbook.
Later, Park was joined by State Sen. Les Ihara at the podium for a "press conference" of sorts, moderated by journalist Peter Serafin. Audience members asked questions, and eventually the conversation moved to the posting of agendas for government meetings.
For Big Island residents who try to keep apprised of state government affairs, the timely and proper posting of agendas is crucial to being able to participate… especially when that participation involves having to catch a flight over to Honolulu.
Other sessions included Trends in New Media, an iPad workshop, Journalism Versus Writing Press Releases, Old Media vs New Media, and Fair Use in the Age of New Media.