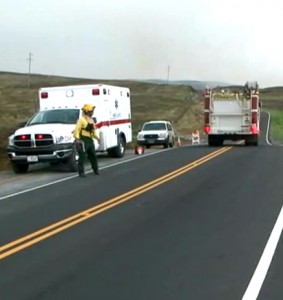 Video by Daryl Lee
UPDATE: from U.S. Army Garrison Hawaii Public Affairs Office
The wildfire at the Army's Pohakuloa Training Area continues to spread northeast in the direction of Saddle Road. The fire began sometime approximately 11 a.m. Tuesday in the Keamuku Maneuver Training Area (KMA).

It is estimated 1100 acres have burned thus far. No injuries to personnel and no structures are threatened.

The fire is 50% contained at this time. The cause of the fire is under investigation. No Army training activity was taking place in the KMA.

Two helicopters are conducting water drops, and two bulldozers and crews from Federal Fire, Hawaii County Fire, State Forestry Division, totaling 44 personnel are battling the fire. Saddle Road is currently closed from Mile Marker 8 to Mamalahoa highway, but expected to reopen by noon.
WAIKII RANCH, Hawaii: Big Island Video News has obtained a first look at the brush fire that is burning out of control near Saddle Road this evening, thanks to the hard work of video journalist Daryl Lee.
A wildfire at the Pohakuloa Training Area is spreading northeast from the Keamuku Maneuver Area towards Saddle Road and has engulfed approximately 700 acres, according to the U.S. Army Garrison Hawaii's Public Affairs Office.
The most recent Hawaii County Civil Defense message says the fire as out of control, and describes the location of the fire as between the Kilohana Girl Scout Camp and Waikii Ranch.
Saddle Road has been closed from the Highway 190 Junction on the Kona side of the Big Island through the 8 mile marker near Kaumana City in Hilo.
Officials anticipate the Saddle will remain closed through tomorrow.
The U.S. Army says three helicopters equipped with water buckets are being used to battle the blaze; 1 Evergreen, and 2 Hawaii County along with equipment and crews from the PTA Fire Department, and the state's Division of Forestry.
The fire began sometime approximately 11 a.m. Tuesday. The cause of the fire is under investigation.
The National Weather Service had issued a Red Flag Warning for Kona, Ka'u and Kohala through 6 p.m. today, meaning that low humidity and strong winds have increased the threat of wildfires.