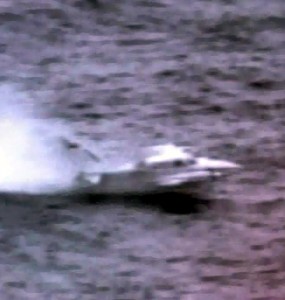 Video courtesy U.S. Coast Guard
HILO, Hawaii: On Friday evening, rescue crews (and local media) scrambled when they heard the news that a plane, reportedly low on fuel, would likely crash land into the Pacific Ocean 25 miles East of Hilo.
A U.S. Coast Guard crew was able to rescue the pilot, who had ditched the plane and survived the ordeal.
The following story was written by U.S. Coast Guard Petty Officer 3rd Class Angela Henderson:
Coast Guard aircrews rescued a pilot who was forced to ditch his Cessna 310 aircraft approximately 13 miles northeast of the Big Island, Hawaii Friday.

A Coast Guard HC-130 Hercules airplane from Air Station Barbers Point assisted the pilot during the process of ditching his aircraft. The Hercules aircrew maintained communications with the pilot during the ditching process and vectored a Coast Guard MH-65 Dolphin helicopter and the Coast Guard Cutter Kiska to the scene.

The pilot ditched his airplane at approximately 5:23 p.m. and climbed out of the cockpit onto the wing.

The Dolphin aircrew deployed a rescue swimmer to pick up the pilot. The rescue swimmer hoisted the pilot into the Dolphin and the aircrew transported him to Hilo Medical Center. He was reported to be coherent with no significant injuries.

The Federal Aviation Administration contacted Joint Rescue Coordination Center Honolulu at 12:30 p.m. to inform the Coast Guard that a 65-year-old male, piloting the Cessna from Monterey, Calif., to Hilo, Hawaii was 500 miles away from land and was running low on fuel. The pilot estimated he would run out of fuel 100 miles east of Hilo.