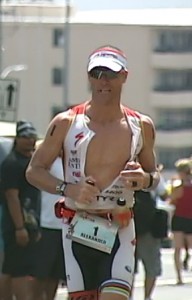 Video by David Corrigan | Voice of Stephanie Salazar
KAILUA-KONA, Hawaii: Records were broken at the 2011 Ford Ironman World Championship in Kona this weekend, as Craig Alexander and Chrissie Wellington reclaimed the world tiles in the grueling endurance contest.
Alexander, who won the event in 2008 and 2009, broke the big record on Saturday – the course record – finishing in 8 hours 3 minutes and 56 seconds. That beats the record set by Luc Van Lierde in 1996 by 12 seconds.
Alexander is only the fourth person in the history of the race to win three times and the first person ever to earn Ironman World Championship 70.3 and Ironman World Championship titles in the same year.
Alexander crossed the finish line more than five minutes ahead of the fellow Australian Pete Jacobs. The Andreas Raelert, who was neck in neck with Alexander down the stretch last year, finished third.
After withdrawing from the 2010 Ford Ironman World Championship due to illness, Great Britian's Chrissie Wellington returned to Kona to defend her course record.
After suffering a bike accident while training in Kona two weeks ago that left her legs scarred and bruised, Wellington had to dig deep to take the title.
Australian Mirinda Carfrae – last year's champion – showcased her skill as a runner, challenging Wellington up until the finish line while breaking her own run course record with a split of 2:52:09.
Over 1,850 athletes representing more than 50 countries and nearly all 50 states started the Ford Ironman in the waters of Kailua Bay when mayor Billy Kenoi shot the traditional cannon. The race which consists of a 2.4-mile swim, 112-mile bike and 26.2-mile run – all along the Kona coast.
Competitors ranged in age from 18 to 81 years old. The Emmy Award-winning Ford Ironman World Championship broadcast will air on NBC on Dec. 10, 2011, from 4:30 – 6 p.m. EST
We will have more on this event during this broadcast.