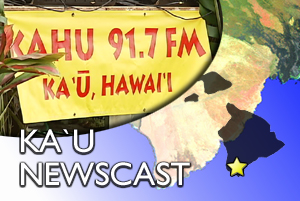 By David Corrigan and Stephanie Salazar
KA'U, Hawaii: In today's Ka'u news update, the Hawaii Volcanoes National Park is getting the word out on two rugged hikes in the southern Kahuku Unit.
Park officials say the programs will introduce the compelling landscape,biodiversity and history of the park's southernmost section to intrepid hikers.
The first, entitled "People and Land of Kahuku" is a two-mile, three-hour expedition through pastures, a quarry, an airstrip and the 1868 lava fields of Kahuku.
Rangers will explain how people lived on the vast Kahuku lands, from the earliest Hawaiians through today.
The hike is offered on these dates: (Steph, no need to read these: Oct. 22, Nov. 13, Nov. 19, Dec. 4 and Dec. 10, 2011, and Jan. 15 and Jan. 22, 2012,)… from 9:30 a.m. to 12:30 p.m. Meet near the Kahuku Unit gate, which is located off Highway 11 between mile markers 70 and 71 on the mauka side of the highway. Park and meet inside the gate near the ranch buildings. Boots, rain gear and long pants are recommended. No advance registration is required.
Second, "Kīpuka'akihi" is a challenging 1.5 mile, five-hour adventure to see some of the rare plants and wildlife that inhabit this treasured kīpuka.
Participants must be prepared to scramble over fallen trees, lava rock, and slippery, wet terrain. Wear sturdy hiking shoes, long pants, sunscreen and a hat. Bring raingear, garden gloves, a day pack, insect repellent, lunch and water.
Due to the fragile nature of the region, the program is limited to 15 people and pre-registration is required. To sign up, call (808) 985-6011.
This expedition into Kahuku's isolated refuge of rare plants is offered starting this Sunday, and also on these dates (Oct. 23, Nov. 20 and Dec. 17, 2011 and Jan. 29, 2012,)… from 10 a.m. to 3 p.m. Once again, meet near the Kahuku gate.
KAHU Radio expands
In local radio news… KAHU Radio 91.7 FM, the community broadcast station serving the southern end of Hawaii Island, is in the midst of a growth spurt.
The station antenna and transmitter have been disconnected from the Maile Street location in Pahala, relocating mauka so that its reach can expand to approximately 21,605 residents from Mt. View through the Ka'u District and over to Milolii.
During its down time, the station continued to broadcast via online streaming on its website, kahufm.com.
From day one, which was on June 28th, 2010, the station has filled an important role in the traditionally underserved Ka'u community. Now, it will be available to residents of Volcano Village and Ocean View Estates…
The 1,000 foot vertical transmitter move up the mountain in Naalehu was made possible in part by a $76,000 grant approved by Gov. Neil Abercrombie and expedited through channels by Sen. Gil Kahele and Hawaii State Civil Defense.
The station plays an important role in emergency situations out in the remote southern area of the Hawaii Island.