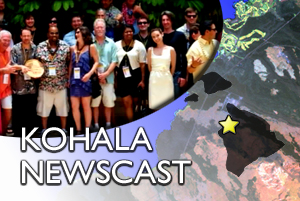 By David Corrigan and Stephanie Salazar, photo courtesy Devany Vickery-Davidson
KOHALA COAST, Hawaii: The 2012 Big Island Film Festival – known to fans as the BIFF – is now accepting entries for the May 24-28 events to be held at The Fairmont Orchid and The Shops at Mauna Lani.
Organizers say the BIFF is a celebration of narrative filmmaking, and includes screenings, social events, celebrity receptions, a screenwriting workshop and a closing night "Best of the Fest" with a top Hawaiian music concert and movies chosen from Festival entries.
Narrative short films of 30 minutes or less, and feature length films, which are 60 minutes or more, completed after January 1, 2010 will be considered.
Early birds can submit their film for entry on November 1st.
The final deadline is February 1, 2012.
Filmmakers will vie for the Golden Honu award. All films shot in Hawaii or created by filmmakers who live in Hawaii receive a 25% discount on entry fees.